Horace Dediu Dirk Schmidt provides soome great insights into the rise of iOS as a platform. Smartphones as a games platform have displayed a significant abilty to rapidy disrupt incumbent games platforms and ecosystems such as handheld or portable consoles which traditionally have dominated the mobile games market.
Peter Farago over at Flurry says "Recently, no industry has been more impacted by digital distribution than video games.  Leading the disruption are iOS and Android devices, whose free and inexpensive games, distributed across a massive installed base of powerful and networked tablet and mobile phone form factors, have already disrupted billions of dollars of game revenue.  In this blog post, Flurry focuses on how mobile devices have severely altered the shape and flow of revenue in the multi-billion dollar portable game category.
Portable gaming, played primarily on Nintendo DS and Sony PSP devices, has been dominated by these two companies for over two decades.  In this model, at retail, consumers pay around $200 for the gaming device and up to $40 for popular game cartridges.  Because of the similar form factor, overlap in consumer base (especially younger players on iPod touch) and the casual nature of game content, Flurry combines iOS and Android devices with traditional portable devices to form the category.  With the inclusion of smartphone game revenue into the category, shifts taking place in market share become clearer."
The chart displays the share of U.S. revenue generated for portable games from 2009 to 2011.  Note that we project November and December for 2011, based on their ratio to the first 10 months of the year, as observed in 2009 and 2010.  Starting on the left, for 2009, we calculate $2.7 billion in total U.S. portable game revenue.  For 2010 and 2011, we estimate $2.5 billion and $3.3 billion, respectively.
The most striking trend is that iOS and Android games have tripled their market share from roughly 20% in 2009 to nearly 60% in just two years.  Simultaneously, Nintendo, the once dominant player, has been crushed down to owning about one-third of market in 2011, from having controlled more than two-thirds in 2009.  Combined, iOS and Android game revenue delivered $500 million, $800 million and $1.9 billion over 2009, 2010 and 2011, respectively.
Horace Dediu Dirk Schmidt has this to say about the iOS ecosystem as a game platform. At this year's WWDC Apple offered an update on Game Center accounts. The data we have so far is shown in the following graph.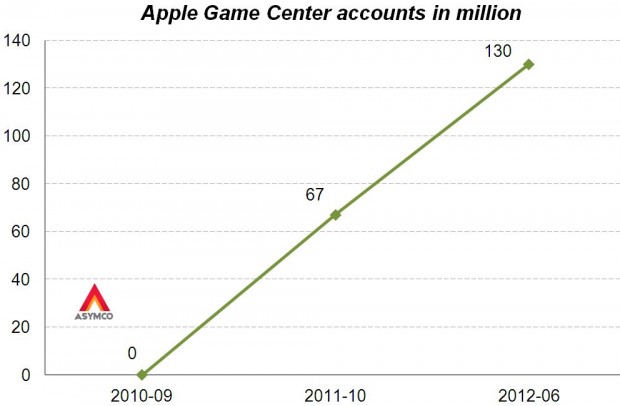 Before being acquired, another network, OpenFeint, announced 180 million iOS accounts in October 2011. Another figure to consider is the 40 million subscribers to Xbox Live (out of 66 million Xbox users). This subscriber base is paying for a service (about $1 billion per year) so it's not the same as the free Game Center model.
Rather than being a revenue source, Game Center is designed to engage users and to capture usage information. It also lets us gauge gaming "consumption" on iOS devices. That itself allows us to contemplate it as a gaming platform vis-à-vis alternate platforms.
To consider the figure as a proxy of penetration and engagement, the graphic below shows cumulative sales of gaming devices.[1]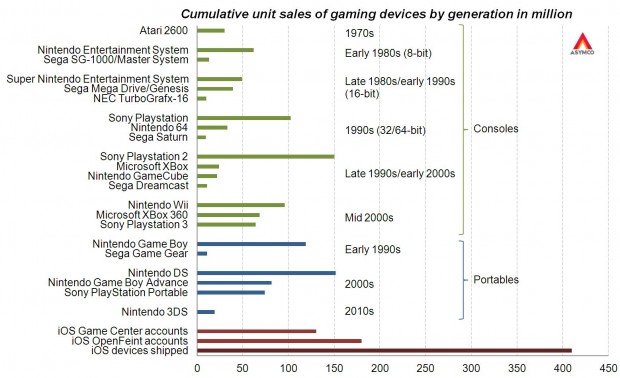 Here are some observations:
There is a pattern of turnover of market participants
Each console "generation" had a clear market leader
The best-selling gaming device was the Nintendo DS closely followed by the PlayStation 2 [2]
Considering the 130 million Game Center accounts, iOS is already the third largest gaming platform
Furthermore, considering the OpenFeint iOS figure of 180 million accounts announced in 2011, iOS has already surpassed the cumulative sales figures for the Nintendo DS
No gaming device has ever reached the 200 million mark
At the current growth rate the number of Game Center accounts will surpass 200 million before the year end
Apple cites the number of games, downloads and payments to developers as evidence of ecosystem health and growth. The figure of Game Center accounts is yet another indicator. It shows growth in and of itself, but it also has the side effect of offering comparative measurement of performance. That measurement compares favorably with other game platforms.
The economics are different but they always are when a disruption takes root.
—
Notes:
Based on reported cumulative sales (Wikipedia), excluding gaming devices with less than 10 million cumulative sales (excludes for example PlayStation Vita), excludes also "home computers" due to missing reported figures
This Wikipedia article contradicts the previous.
—
Source:
http://www.asymco.com/2012/08/07/measuring-ios-as-a-gaming-platform/